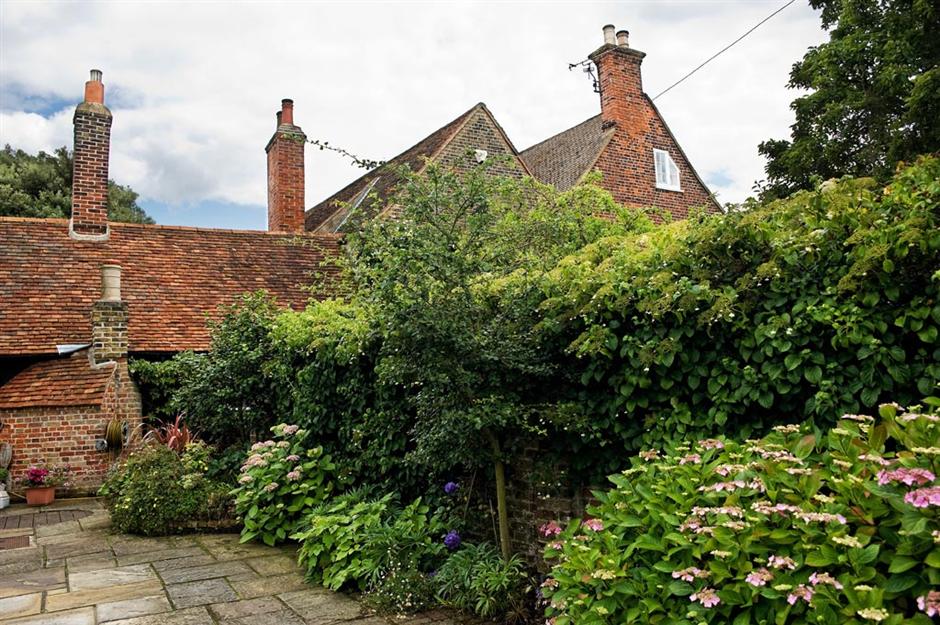 Who stayed at Captain Townsend's South Shoebury Hall Campsite?
By Sharon Harris | Photography by Louisa Hennessy | Sunday, January 4, 2015
The area of Shoebury known as South Shoebury Hall Estate was an area recognised for its health giving amenities as early as 1925.
South Shoebury Hall takes centre stage of this area and was built in the 16th century as a farm house. It now has an 18th century brick Georgian front with a canopy over its main entrance. The interior shows more of its medieval 16th century timber framed origins. Surrounding the Hall is an acre of beautiful gardens that open to the public in order to raise money for charity.
In the 1920's, South Shoebury Hall Farm, as it was then known, was owned by Captain H. R. Townsend and his wife. The site of Shoebury Hall is on the corner of Church Road and Ness Road but, up until the 1970's, its land boundaries ran south west from behind St. Andrew's Church to Ness Road, close to Shoebury Common Beach.
Captain Townsend's South Shoebury Hall Farm was a poultry farm, but he also used his land as a camping site that people today still remember fondly. Its origins, however, may be found in the ethos of West Ham Council, who were struggling to improve the health of its constituents in its crowded, smoggy, industrial area, east of London, in the 1920's.
The fresh sea air of Shoebury was believed to have health benefits and in 1932, a report written by Mr Taylorson, the Medical Officer for Health at West Ham Council stated that: 'for the 7th year in succession the large meadow of South Shoebury Hall was our temporary residence.' Over 300 boys were chosen and had to be 'medically inspected and dentally examined' before being allowed to participate in the two week summer holiday. The 20 acre meadow was transformed into a campsite consisting of thirty two bell tents, two smaller tents as well as a large marquee. A large timber and iron kitchen was built, as was an 'ablution shed', a bath house with changing rooms and latrines. It was stated that 'the hot spray baths were a constant delight to the boys,' which was hardly surprising as many of these boys came from overcrowded conditions where a bath might be a weekly event involving hierarchical, shared baths and a lot of boiling of kettles. In 1931 Captain Townsend had applied to Shoebury Council to build a temporary fruit stall on his land which may well have been for the benefit of the boys, although it is documented that the food for the boys was supplied by the Co-operative Society.
At the end of their holiday, the camping gear was packed away in 'spacious new accommodation' provided for it, in readiness for the next year's summer holiday
It seems that at some point after West Ham's usage of Captain Townsend's South Shoebury Hall Campsite, it became more used by the general public. Captain Townsend served in the navy, and his campsite was divided into squares and given names such as Jellicoe Square and Drake Square. People can remember him as 'being like the Country Squire' as he rode about the site on his bicycle.
Around the campsite, wooden huts, which may well have been those erected for the West Ham boys, were used to house tents and equipment and there was a toilet block. All the water for the campers' cooking and washing needs had to be fetched from a tap by the block and it was often the job of the children to fetch the water. There was no electricity and all lighting and cooking was done by gas.
By the time that WW11 started caravans were beginning to appear at the site. These gradually took over from the tents but during WW11, Captain Townsend's South Shoebury Hall Campsite was requisitioned by the Army for the duration of the war. Something, apparently, he was rather sad about.
Many people who started using Captain Townsend's Campsite before the war, returned once it was over to spend their holidays there. Shoebury common Beach was a favoured haunt of the campers and they would take advantage of the pleasure boat trips that visited what was left of the Mulberry Harbour in the sea. Captain Townsend's shop expanded and sold everything needed for a camping holiday, including eggs, bacon, cheese and ham and later on, sweets and ice cream. Bikes and trikes were available for hourly hire and the children could canoe or boat on the boating pool adjacent to Shoebury Common Beach.
As for the 300+ West Ham boys, did any of them return to Captain Townsend's South Shoebury Hall Campsite, not as boys, but as soldiers during WW11, or maybe even later, as fathers with their own children? It is sincerely hoped that they did.
In 1972, the area known as South Shoebury Hall Campsite was built upon and became roads and housing at Admirals Walk and Fremantle.
Help us to Share
Please take a moment to help us share this blog by clicking one of the social buttons below.
Thanks for reading, Sharon Harris.
Don't forget to follow us on Twitter: @BearEstateAgent
< Back to Bear Shouts