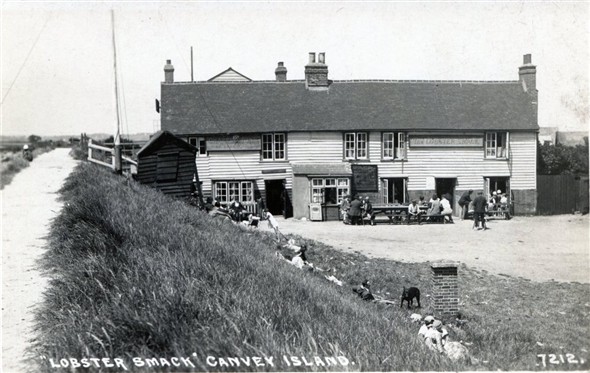 Was the Smuggling on Canvey Island carried out by 'Gentlemen?'
By Sharon Harris | Photography by Google Maps | Tuesday, December 2, 2014
In 1880, in a written description of the Lobster Smack Inn on Canvey Island, Charles Dickens wrote that smuggling still continued in this part of the Essex coast and had a history of smuggled goods' 'runs being carried out by 'Gentlemen'.
This same Inn, its footprint being there since the 1580's was also rumoured to be the model for Dickens's Sluice House in Great Expectations, as the Beckworths who ran the inn, also ran Sluice Farm on Canvey Island.
It's the Lobster Smack's proximity to the sea wall and Hole Haven that nurtures the belief that it was used in smuggling on Canvey Island. Its customers came from ships and yachts that could moor right next to the Inn and enter it by way of the sea wall itself. Before licensing hours were introduced during WW1, travellers would arrive day and night for their refreshments.
These comings and goings may have inspired rumours of the smuggling that went on there, but there are also stories of secret chambers and subterranean passages that led to the local parish church of St Katherine's from the Lobster Smack, in order to avoid being spotted by customs men. They were housed in their cottages, built at the end of the 18th century, a stone's throw away from the Inn.
The Beckworth's descendants do not believe that the Inn was involved in the smuggling on Canvey Island. An interesting account of Canvey life can be found on google with the title 'Lobster Smack Inn and Sluice Farm Canvey Island'.
What exactly was smuggled during Canvey Island's history? Early in the 13th century some goods were prohibited and some levied. Edward 1 introduced Customs Houses around the coast so that ships could be spotted landing goods away from the legal ports. There were insufficient staff to be of much use, so tea, rum, brandy and woollen cloth could be smuggled all around the coast.
Canvey Island, laying low in the estuary between Kent and a westerly route to London meant ships could be unloaded and swag bought onto the island before continuing to London Port where taxes were levied. Much of this would go unseen, for there was more sheep than people in those early days. On the way back it was possible to moor once more near Canvey Island, in order to load up with something even more valuable to English merchants, wool.
Import and export taxes were continually raised to fund the 100 Years Wars with France. Calais fell to the English in 1347 and this became the only place that legal trading could take place with foreigners for the next 160 years. There were many ships going backwards and forwards to France and Holland during that period and many opportunities for smuggling in Canvey Island.
Life on Canvey throughout The Middle Ages was hard. There was no fresh water and rain and snow had to be collected for human and animal consumption. Ewe's milk was used to make cheese and possibly exported but whether or not this could be used to barter for smuggled goods is not known.
By 1622, Canvey Island was divided and owned by several landowners. One of these, Henry Appleton, agreed with the others that Canvey should be reclaimed and made safe from the sea. His connection to the Dutch dyke engineers that carried out the work was a Dutch haberdasher residing in London. One thing they had in common was wool. Canvey Island was still grazing sheep and the landowners, gentlemen, profited from their fleeces.
In 1660, the export of wool was forbidden. English merchants were outraged as the price for wool here was very low.
Fleeces from England were smuggled to Flanders in their thousands. It was thought that 120,000 packs of wool were sent by this route.
Canvey Island was now more habitable, thanks to the Dutch, and the strong links that were made with them and the landowners may well have increased smuggling in Canvey Island.
As a result of this huge problem for the Monarchy, The Hovering Act, 1718 was brought in. It was made illegal for ships less than 50tons to moor within 6 miles of the shore. Smaller boats, under 15 tons, were impounded and sawn up if they were found to be carrying illegal goods.
Dickens, in David Copperfield, describes one such boat being used as a house on the foreshore, 'Pegotty's House'.
AS the centuries rolled on, folk tales told of smuggling on Canvey Island. Smuggling laws had changed and become ever more punitive for smugglers to stop their illicit trade. The death penalty for smuggling, was brought in as so much revenue was lost. In fact, it made the smugglers hard and ruthless and often murderous. These were no 'Gentlemen' but who was buying their wares, is another question? If locals told of smugglers' movements they, in turn, would be targeted by evil smuggling gangs. Some were renown, like the 'North Kent Gang', for their brutality.
It seems that Hadleigh Castle, with its great vantage point looking over the Estuary towards Kent, has been used by both smugglers and customs officers at different times. The smugglers would flash light signals to Kent to tell when the coast was clear and the customs men would look out for the ships illegally mooring. In fact, 'when the coast is clear' is an expression derived from these times.
Before the coastguard cottages were built at Holehaven, a hulk was moored there that housed the custom officers. One of the secret passages often talked about ran from a house in Denham Road to Hadleigh Castle. The house in Denham Road was thought to be haunted, as was the tower at Hadleigh Castle. It is known, however, that smugglers often disguised their activities by using hauntings to frighten people away. That these tales exist, can be taken as 'proof' that smuggling continued. Furthermore, at the end of the 19th century, two custom officers were murdered whilst patrolling against the smuggling on Canvey Island. One body was found at the turn of the century, and the other, 60 years later.
Whether smuggling was done by Gentlemen on Canvey Island, is hard to prove. Certainly the landowners who grazed sheep had much to gain from the profits of smuggling and may be behind the smuggling trade of wool. Who else could afford the expensive goods on offer by sending off a shipload of sheep's' fleeces and returning with Rum and Brandy?
As recently as 1987 a large seizure of 570 kilos of tobacco was made from a yacht in Holehaven Creek. Maybe the 'Gentlemen' are still 'feathering their nests'?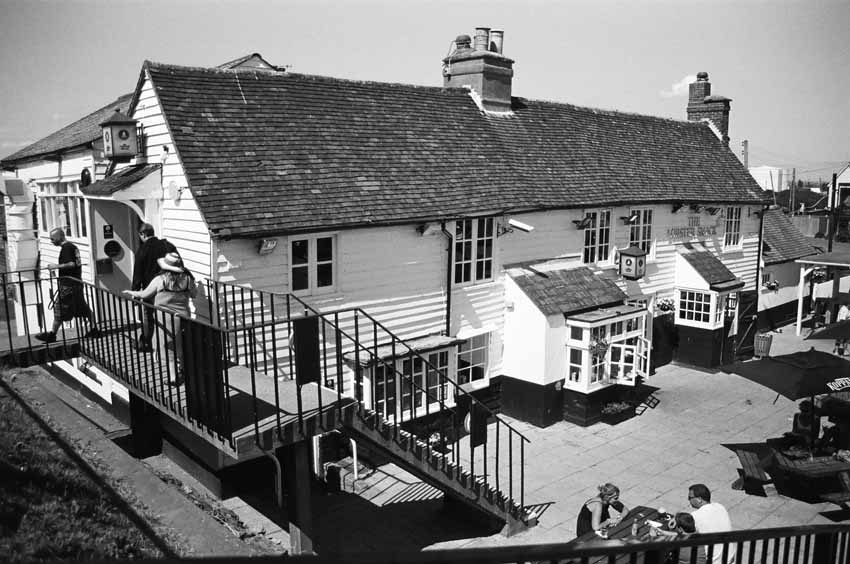 Help us to Share
Please take a moment to help us share this blog by clicking one of the social buttons below.
Thanks for reading, Sharon Harris.
Don't forget to follow us on Twitter: @BearEstateAgent
< Back to Bear Shouts