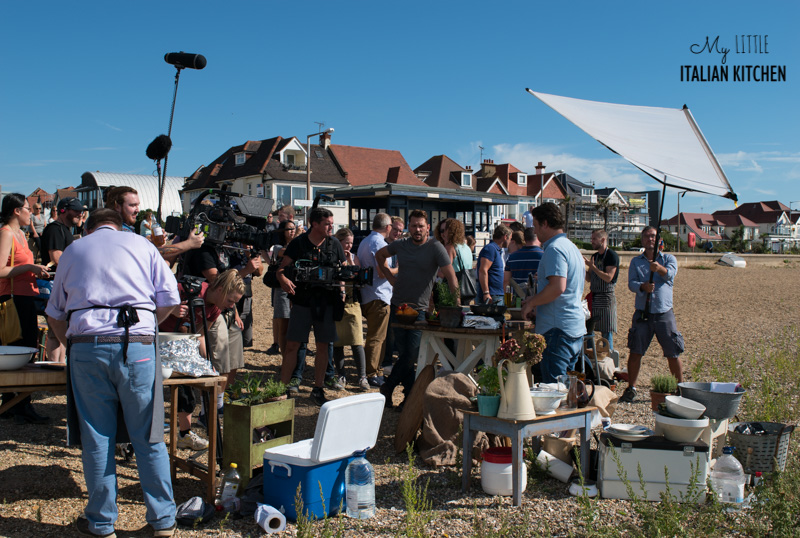 By Sharon Harris | Photography by My Little Italian Kitchen | Monday, January 9, 2017
Southend-on-Sea in the UK is home to the longest pleasure pier in the world but it is not this, however, that makes it a celebrity. Southend takes its name from being located at the south end of Prittlewell which first existed in the 6-7th century. Prittlewell Priory was founded there by Cluniac Monks in the 12th century. The Priory's lands stretched southwards for several kilometres down to the sea where a few fishermen lived and worked and it was this sea side end that became known as 'Southend.'
This area was further developed in the 1790's when land was sold and the Royal Terrace was built along with the Grand Hotel, which held its grand opening ball in 1793. The Hotel was renamed the Royal Hotel after a visit from Princess Caroline and the Prince Regent in 1803. Visitors came down by stagecoach from the City of London, which is only 64kms away and Southend became known as a seaside resort. So began Southend's celebrity status, for better or for worse!
Its first brush with fame came when Southend was chosen by Jane Austen in her book, Emma, 1816, as the seaside resort to which John and Isabella Knightly travelled by stagecoach, for their seaside vacation.
Southend Estate agents were extremely surprised to find so much filming had been carried out in Southend-on-Sea, and that's not including all the advertising that had been done there.
Nowadays, Southend is an area that covers 41.76 square kms. It has direct links to London City, where it is possible to arrive within an hour via one of two rail links. A fifth of Southenders commute to London every day and Southend is also thought to be the seventh most densely populated area in the UK, outside of London and its boroughs. There has even been a TV mini-series about Southend called 'Southenders' which was filmed in 1997 with one of its central characters trying to become a supermodel.
Southend-on-Sea even has its own airport that started its life as a base for fighter planes in WW1. Nowadays it serves the UK and Europe. It has often been featured in films for the 'silver screen' including 'Goldfinger' when James Bond aka Sean Connery takes a flight to Zurich.
In 1939, whilst still named RAF Rochford, Southend was seen in the blockbuster 'the Lion has Wings.' Even in 2006, Alex Jennings as Prince Charles arrived at Southend Airport in 'the Queen' which also starred Southend's most famous daughter, Dame Helen Mirren.
Southend seafront is a favoured area for filming. As early as 1963, Cliff Richard and his bus could be seen driving along the prom in 'Summer Holiday.'
'Essex Boys' was filmed in 2000 and gives us some good views of the seafront and the 'Golden Mile' which make it seem never ending. In 'Funny Man' 1994, the seafront down to Shoeburyness is filmed, where a very strange Punch and Judy can be seen. This film is very strange, even by today's standard!
It's always good to see Southend Pier in films and there is a glimpse of the pier trains in 'Malice of Blood' 2010. In the 1990 film 'Killing Dad' starring Julie Walters, Denham Elliot and Richard E Grant there is footage of the Pier and seafront. More often Adventure Island or 'Peter Pans' as old Southenders call it, is seen on film. In 2008 it was shown in 'Happy Go Lucky' and again, more of the Golden Mile is featured in 'Malice in Wonderland.'
It's interesting that many of the films which include shots of Southend seem to be in the horror/crime/gangland genre. Apart from the renown 'Essex Boys' and its real links to the area, 2012 'Hardboiled Sweets' has monies being collected from a gangster who lives in…Southend-on-Sea. The 2002 film 'the Great Dome Robbery' based on a true story in which the world's largest diamond was to be stolen from the Dome in Greenwich, starring Craig Fairbass and George Innes, had footage of Leigh-on-Sea's Two Tree Island, which is just down the road from Southend.
Today, Southend and its Pier can still be seen on TV. Apart from when the Eastenders crew decide to have a day trip down from Albert Square, Jamie Oliver sets up camp in the Pier café in his 'Jamie and Jimmy Show' and shares his culinary skills with various other celebrities. Southend estate agents, Bear Estate Agents, have been down there themselves to watch what is going on and Jamie's team at My Little Italian Kitchen have given us permission to use one a photo from their site.
It's worth slowing down, parking and taking a look if you are driving down Southend seafront and you see the cameras rolling. You never know just who you might see performing there.
If you are looking at buying or selling in a property in Southend-on-Seam then visit http://www.bearestateagents.co.uk/essex/southend-on-sea/
Help us to Share
Please take a moment to help us share this blog by clicking one of the social buttons below.
Thanks for reading, Sharon Harris.
Don't forget to follow us on Twitter: @BearEstateAgent
< Back to Bear Shouts